The Tagmaster Desktop program is primarily used by an operator to select pre-designed tags which are sent to a Tagmaster machine. The operator can select from a list of tags on the screen, enter any specified variables, and print out a set count of tags. Files listed in the desktop software are formats which cannot be modified at this point. Only the variable fields can be editied by the user. A very popular approach when the need of process control is required.
This product is used as an "offline" system and can be very cost effective.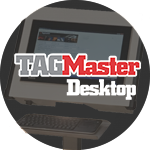 On demand printing will insert real-time variables on the tag.
Easy to select and print. Access to only the tags you want
No one can tamper with the layout of the tag. Once the tag file is created , it can only be modified by authorized personal.
Audit trail feature can keep track of every tag printed throughout the day and print out a report.